Traveling to Iceland – What SIM Card Should You Get
Are you heading to explore Iceland for a couple of days? You might be wondering whether it's worth getting a SIM card for Iceland. I recently traveled to this northern country and had the same question. In 2023, the best way to get data in Iceland is to get an eSIM for Iceland as long as your phone supports eSIMs.
As someone who is working remotely, I always seek to get a local SIM card anywhere I travel to for at least a couple of days. The SIM card in Iceland is useful for checking emails, staying connected with my team, and sharing stories on social media.
Trust me, there is a lot to share about Iceland such as the scenic Icelandic waterfalls. 
The Icelandic SIM card helps you also to navigate through the country, research points of interest, book accommodation, and manage bookings for tours you might want to take in Iceland. For some attractions, you will need to book in advance. Having a SIM card in Iceland will most likely pay off.
In this article, I will tackle the most frequently asked question about SIM cards in Iceland:
Can I buy a SIM card at Iceland airport?
How much is a SIM card in Iceland?
Do cell phones work in Iceland?
Can you use mobile data in Iceland?
Keep reading to also find out about a rather unknown offer from one SIM card provider that will save you thousands of Icelandic korunas.
You can thank me later :)
Prepaid SIM Cards in Iceland – Prices & Options
There are three main providers of SIM cards in Iceland that you should consider.
Icelandic SIM card from Símmin
Símmin is a popular SIM card provider in Iceland that offers two different data packages.
10 GB
5 GB – 50 min talk and 50 texts
Both packages cost ISK 2.500 (around €17) and the SIM card can be shipped to your accommodation in Iceland so you can pick it up when you arrive.
You can order the SIM card online or get it in one of the partner shops which you will find here.
Icelandic SIM card from Vodafone
The SIM card from the provider Vodafone in Iceland can be topped up with different prepaid packages.
1GB for ISK 1.290
3GB for ISK 1.790
5 GB for ISK 2.290
15 GB for ISK 4.190
Each package contains unlimited talking and texting within Iceland. The premium starter pack contains also 100 minutes for international calls.
You can get the Vodafone SIM card at the N1 gas stations, 10-11 shops or the Elko shop at the Keflavik International Airport. If you are already in Reykjavik you can get the SIM card at any of the Vodafone shops. Find their locations here.
NOVA SIM card for Iceland
Nova offers you unlimited calls and SMS with every data package. Here is a list of popular packages.
500 MB for ISK 1.990
5 GB for ISK 2.990
10 GB for ISK 3.495
15 GB for ISK 4.490
I have been using the SIM card from NOVA during my stay in Iceland. The coverage was in most places in the south quite alright. Up north the connection often switched to 3G or even 2G.
I can't say if that is also the case with other providers, however, note that if you plan to travel the whole island you will get into remote areas with no reception at some point.
Getting a SIM card for Iceland at the Airport
You can get a SIM card from NOVA in the market at the Keflavik International Airport. The market is located right in front of the stairs that you need to take to get to the baggage claim area. You can't miss it.
This market used to sell SIM cards from different providers. When I was there I only found two data packages from NOVA. I went with the 10GB as I didn't want to risk to run out of data at some point. I spend in total 12 days in Iceland and I almost used it all. However I also downloaded movies from Netflix and streamed videos on YouTube. If you only aim to use the data for checking emails you will probably not even use half of that 10 GB.
I paid ISK 3.495 (€ 25) for my NOVA SIM card at the airport. You can pay cashless as every shop in Iceland accepts debit and credit cards. I used my Revolut Metal card to make the transaction as I get the best exchange rate when paying abroad.
Save money with NOVA SIM card 2 for 1
The SIM card provider NOVA has a special collaboration with some of the restaurants and service providers in Iceland.
This means that you can get discounted meals and services for half the price. Usually, you can get two specific meals for the price of one. Some restaurants in Reykjavik offer this special promotion only during certain hours of the week. You can check the offers here: https://www.nova.is/dansgolfid/2fyrir1
The site is in Icelandic however if you open it in Chrome you can use Google translate to translate the text into your language.
You can set up your filters and look for a place nearby. Choose the restaurant and fill in your number. You will find it on the back of the SIM card packaging. Upon sending your number you will get a text that you can show in the restaurant to get your discount.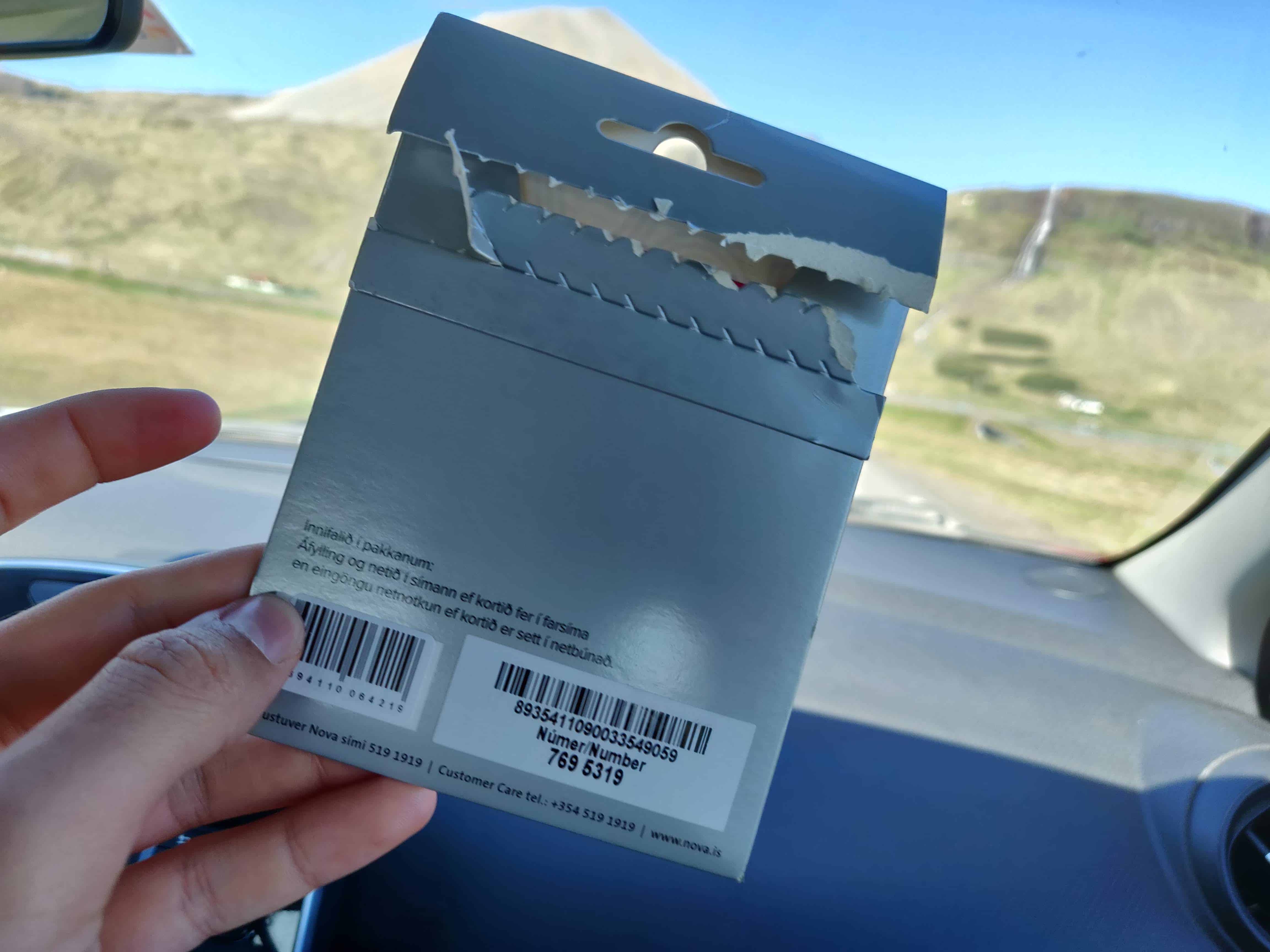 We went to the Vínyl Bistro in Reykjavik (click here to view the location) where you can get 2 fish of the day for 1 and save ISK 2.500 (€17). This deal alone makes the NOVA SIM card worth it.
Using your own mobile data in Iceland
If you have a European SIM card you can call, text and use your data for the same rates as you would pay in your home country. Your cell phone will work in Iceland with a European SIM however if you come from the US or Asia you probably need to buy a SIM card as most North American cards don't work in Iceland.
Iceland is a beautiful country but it can also be quite rough. Sudden weather changes might bring you into trouble. In that case, you should be able to call for help.
Having a SIM card in Iceland is certainly a safety precaution I would advise to follow.
Jakub
Jakub is a Digital Nomad roaming through countries, experiencing new cultures and investing into his future. His aim is to inspire fellow travelers to follow their dreams.