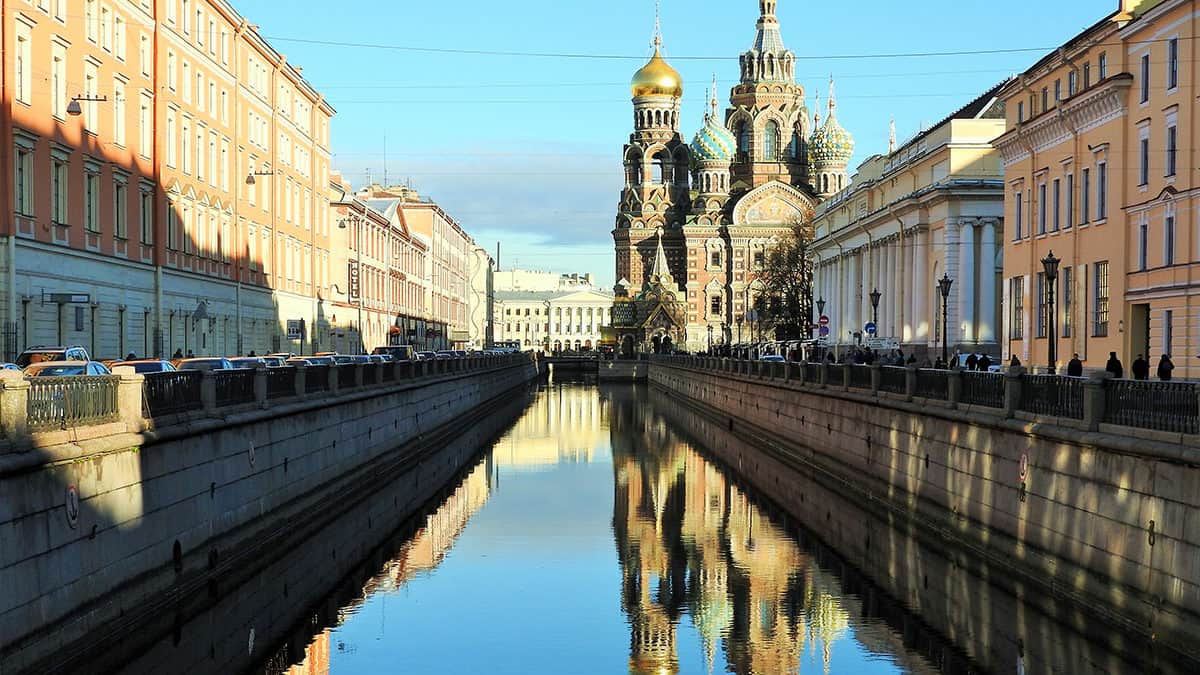 3 Days in St. Petersburg – 11 Cool Things To Do
Thanks to the Summer College and my internship in Russia, I could spend more than three weeks in St. Petersburg, also called "the Venice of the North". During my time in St. Petersburg, I explored most of the city center and some nontouristy things to do in St. Petersburg, such as hidden gems or visiting the periphery of the city.
Many people visit St. Petersburg only for no more than 3 days. In this post, I will give you my first-hand itinerary of 11 cool things to do in St. Petersburg that you can do in three days. Remember to stick until the end since I will include some unusual activities and hidden gems, you won't find on Tripadvisor.
Make sure to get an eSIM for Russia when traveling to St. Petersburg so you can navigate the city hassle-free.
1. Visit Peter and Paul Fortress
If you plan to stay only three days in St. Petersburg you should not skip the visit of the Peter and Paul fortress. It is the landmark of St. Petersburg, built by Peter the Great.The fortress served later as a prison and currently as a graveyard. The citadel of St. Petersburg dominates the island. All the family members of the family Romanov (Peter the Great) are buried here.
Each full hour you will hear a specific melody played by the cathedral's bells. I advise you to come at noon, that way you can experience a local tradition which is firing of the cannon from the bastion.
2. Take a Boat Tour in St. Petersburg
St. Petersburg is one of those cities where a boat trip makes sense. I took even two, one by day and one at night. Both boat trips were worth the money. It is something you should put on your list of fun things to do in St. Petersburg.
During the day, the boat takes you through the center, where you will experience the city from a different perspective.
At night you can see the main attractions in St. Petersburg, the bridge opening.
Book a boat tour in St. Petersburg here; it's only €14.
Save money!
You always have the option to negotiate the boat ticket price. Mostly they sell it for around 750 rubles (€ 1 = 72 rubles), but they can go down to 500 rubles or less if you ask for it. In the offseason, you will pay as little as 200 rubles.
3. Bridge Opening at 1:30 am
Every night at 1:30 am, hundreds of people wait to see the St. Petersburg main attraction. Be aware that afterward, you will not be able to cross Neva until 5 am when the bridges close again.
There is only one metro line (violet) that runs the whole night (at least it did back in the summer).
You have two options. Either you watch the bridge opening from one of the boats on the river or from the riverside. It's something cool to do in St. Petersburg.
4. Play old Russian games at the Soviet Games Museum
If you are looking for unusual things to do in St. Petersburg, this is a cool place to go. I mean, where else can you play old Soviet games?
The museum is separated into two areas. In the first part, you can play modern digital games and in the other one, old Russian games. I only went for the Soviet games, and I must admit I enjoyed it. It is even more fun to visit the place with a couple of friends.
5. Walk through the city center
Petersburg's city center is really beautiful and the best way to explore it is my foot. If you are looking for free things to do in St. Petersburg, walking is free and most of the places you can visit for free as well.
I suggest you walk to the following destinations :
Church Saviour of the Blood
Field of Mars
Troitskiy Bridge
Peter and Pavel Fortress
Hermitage
Admiratelstvo
Isaac's Cathedral
Anticafe FD
Market Place (Food)
Kazan Cathedral
I created a tour guide for your ease, it takes around 3 hours and you can pass most of the main sights. You can view the full-size map here.
Savior of the Blood Cathedral looks just amazing from the outside; from the inside, it did not impress me that much, but you can decide for yourself if you want to visit.
If you plan to visit Ermitage, there might be quite a big queue, so keep in mind that you might wait a while. Students have free entrance upon showing their student card.
6. Visit Anticafe
A great concept that I first experienced in Russia is the Anticafe. It is a chilled place to hang out with friends. You pay for your time in this coffee house while enjoying unlimited tea, coffee, biscuits & wi-fi.
I am aware of two coffeehouse concepts like this in St. Petersburg.
One is right at the Nevsky Prospekt (main street). This one is called FD and is located at Nevsky Prospekt 11. You need to ring the bell and say you want to enter the FD Anticafe (top floor). This is a hidden gem. Usually, only locals know about it.
The second Anticafe I would recommend is called Zifferburg. It is a cool place to hang out in St. Petersburg, particularly on weekend nights. You can enjoy live music, while in winter, it's a good place to warm up. You will find it at the top floor of Nevsky Prospekt 48 (first, you must pass a small shop to get there).
Both Anticafes are hard to find; usually, it's meant for locals and cool people like you who want to experience a part of the local life.
7. Go up to Saint Isaac's Dome
Saint Isaac's Cathedral is another famous sight of St. Petersburg. It's enormous, and the construction was combined with many problems due to the muddy ground of Petersburg.
This is also the reason why the metro is so deep under the ground. I recommend you visit the dome. You will get a nice view of the city center. You can buy the entry tickets for the dome only if you wish so. Students with valid ISIC card will receive a discount. If you plan to spend three days in St. Petersburg, this is a place to visit.
8. Relax at the Krestovsky Island
At Krestovsky Island, you will find the famous amusement park of St. Petersburg. Even if you are not into roller-coasters, a couple of minutes of walking will bring you to the Central Park of Culture and Recreation, which I highly recommend visiting.
It's a great place to relax out at the Finnish Gulf. Many people don't go there, but you can get a bit less touristy impression of St. Petersburg. Certainly, a fun thing to do if you want to rest from sightseeing in the city center.
You must take the Violet metro line from the center to the "Krestovsky Ostrov" station to get there.
9. Watch a Football Game
Saint Petersburg is home of Zenit, a famous Russian football club. If you have some spare time, get yourself a ticket. The price is around 700 rubles, and watching a football game is on the list of cool things to do in St. Petersburg.
The atmosphere at the stadium is amazing. A fun experience is also the Russian security control at the entrance. It's not uncommon that you will get double-checked at major sports events in Russia. View the schedule for upcoming games here.
10. Visit Pushkin
Pushkin is where you will find another huge palace built by Catherine the first wife of Peter the Great. This place is on top of every list of things to do in Sankt Petersburg. I have been to Peterhof Palace and Hermitage, and as for myself, the buildings themselves are not worth the visit.
What's worth visiting are the surrounding gardens. The park in Pushkin is beautiful and worth it. Apart from the bus tickets to get there, you will not have any other costs. Admission to the gardens in Pushkin is free.
To get there, take the Marshrutka (Minibus) from the metro station Moskovskaya (blue line).
11. Visit Peterhof
Another landmark of St. Petersburg is Peterhof, an enormous complex inspired by Versailles. The fountains in Peterhof are beautiful, and I recommend visiting it in summer.
The fountains are turned off in winter, and there is little to see otherwise.
You can visit it by speed boat departing from Hermitage or a Marshrutka (Minibus) from the station Avtovo (red line).
St Petersburg Nightlife Guide
If you want to experience nightlife in Saint Petersburg, I advise you to go out in a group where at least one talks good Russian and is familiar with the area. If you travel by yourself and stay in hostels, I suggest going to join a group and go out together.
Nightlife for tourist without any knowledge of Russian might be dangerous. I have already heard many stories and even saw a dead body in front of one of the clubs. If you plan to drink, be aware that you are in a foreign country. Never go over your limits.
A famous street for bars and clubs is called Dumskaya (right next to the Nevsky Prospekt).
Where to eat in St. Petersburg
If you want a good place to eat, try the "Market Place" restaurant. You will find them everywhere; they offer great fresh, local food for a good price.
Where to stay in St. Petersburg
Accommodation in St. Petersburg is cheaper than in most European cities. Here are a few options for you:
Hostels from € 11: Come2Us Zakharievskaya 17 / Baby Lemonade Hostel / Podushka Hostel /
Mid-Range from € 50: Inn 15 Komnat / Okhtinskaya Hotel / All Dreams Hotel
Luxury from € 109: The Faces Historical Center / Nevsky 67 Hotel / Best Western Plus Centre Hotel
During my second stay in St. Petersburg, I stayed at Baby Lemonade Hostel. It's 10 min walk to Nevsky Prospekt. I can certainly recommend this hostel as it was very clean and affordable.
If you are on a budget, I suggest you also compare Hostel prices on Hostelword.com. In case you prefer to book your stay via Airbnb coupon and save € 3o on your first stay. If you already have an Airbnb account, create a new one to redeem the coupon.
Exploring St. Petersburg in one day? Join a tour!
Using the Metro in St. Petersburg
To navigate fast in St. Petersburg Metro, get this free app from Itunes and Android.
All of the recommended places you should be able to visit within your three days in St. Petersburg. If you are too exhausted from sightseeing and don't have much time, I would skip the visit to Pushkin, which would take you the whole day.
Here is a short video about my impression during my stay in St. Petersburg as a student a few years ago.
Share your experience
Let me know how you enjoyed your stay in Sankt Petersburg and what other cool things you would add on the list in the comments below.
Tags In
Jakub
Jakub is a Digital Nomad roaming through countries, experiencing new cultures and investing into his future. His aim is to inspire fellow travelers to follow their dreams.