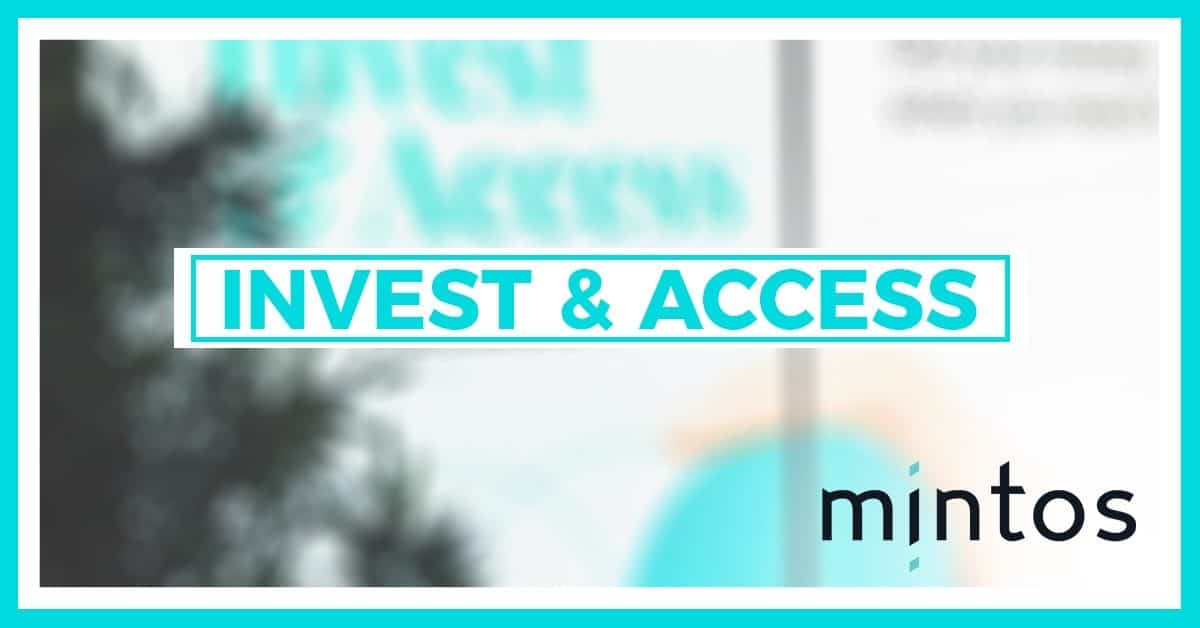 Mintos Invest & Access – Should you use it?
Mintos Invest & Access – a hot topic within the P2P lending community since its launch in mid-2019. It has been often discussed in various Mintos reviews. Broad diversification and quick liquidity are the main benefits of the new Mintos feature.
It's been a few months since investors started using the Mintos Invest & Access function. I have tested the feature myself with an initial investment of €700. In this article you will learn all the main points you should know before using this automated investment strategy.
I will also share my personal opinions and whether I think it's a good or not that good feature.
Quick facts about Mintos Invest & Access
Average interest mostly between 12-13% per year

On average 80% of your investment can be cashed out immediately

You invest only in loans with buyback guarantee

There are no fees for early cash-out

Your investment is broadly diversified
How does that sound to you? Amazing? I would not be surprised. Earning 12% of interest per year with almost instant access to your investment amount is beyond what most people are used to.
What's the catch you might be asking? Don't worry I will talk about that as well but let me first show you how the Mintos Invest & Access works.
Setting up your Mintos Invest & Access
You can access the Mintos Invest & Access from your menu. Just click on Invest in the top menu.
Setting up your Mintos Invest & Access takes less than a minute. You only need to define your Invest & Access portfolio size. The current minimum target amount for your portfolio is €500.
There are rumors that Mintos will lower the minimum investment (portfolio size) to €10 soon.
You confirm your investment amount, lean back and let the Mintos Invest & Access do the work for you – the feature will automatically invest money for you.
No more setting up criteria as investors were used from the Mintos Auto Invest feature. In fact, you can't control anything but rely on the algorithm of Invest &
Access that it will be able to diversify your portfolio properly.
How to cash out
A well-advertised advantage is certainly fast access to your money. I have tested it myself and in fact, I could retrieve most of my investments instantly (more than 90%). The rest I can't access as those loans are either in the grace period or are delayed.
There are a few options to cash out the full amount:
You can either stop the Invest & Access function and wait until those loans are paid back fully
The borrower pays back the monthly payment and you cash out afterwards
Wait until the loan is delayed more than 60 days so the buyback guarantee kicks in
Sell those late loans manually on the secondary market
Drawbacks of Mintos Invest & Access
In theory, the Mintos Invest & Access is an amazing tool for anyone who does not want to make the effort and define their own diversification criteria. It's a time-saving tool.
Here are some of my concerns with the Mintos Invest & Access
You cannot set any criteria

Invest and Access doesn't diversify equally between loan originators

You invest in loans from loan originators who don't pay you an extra fee for delayed loans

Your late loans can't be sold with Invest & Access

Invest & Access also invests in loans on the secondary market
For investors who only invest a few hundred Euro in P2P loans, these concerns might not be too relevant. For those of you who invests thousands, this might be a different topic. My portfolio size on Mintos alone is over €10.000.
Personally, I want to have an idea at least, where I am putting my money into. Naturally, no investor knows who he is lending money to. There are however important questions that should be addressed.
You have no control over your investment. Your money is diversified across loan originators with various ratings (meaning risk evaluation). Many investors complain that they cannot influence whether the tool invests in loans from companies that don't forward a fee for delayed payments from borrowers. This means that you won't be compensated for the time you have to wait until the buyback guarantee kicks in.
Investors should also know what happens with their investments as soon as they cash out.
The Invest & Access feature should be the perfect diversification tool. If you look up the loans you are invested in, you see right away that the function doesn't diversify equally across all loan originators.
This is just a representative example as these are the remaining delayed loans after I cashed out.
Should you use it?
I can clearly see a benefit using the Mintos Invest & Access function. At the end of the day, I could retrieve more than 90% of my investments pretty much immediately.
If you are investing only a few hundred Euro, the Invest & Access feature might be good enough for you.
If you plan to invest several thousands I would rather use the Mintos Auto Invest Custom Strategy than Invest & Access. At least to the point it still invests.
The Invest & Access feature does have priority over the standard Auto Invest function, where investors can define all of their criteria by themselves. Meaning if you set up your own criteria with the Mintos Auto Invest, Mintos will only invest for you after the demand from the Invest & Access users is covered.
I am very curious how this function will evolve and whether it can be improved so it doesn't harm investors who use Mintos mainly due to the fact that they can fully control the criteria of their investments.
What are your thoughts on the Mintos Invest & Access? Would you use it? Share your opinions in the comments below.
Last Update:
Jakub
Jakub is a Digital Nomad roaming through countries, experiencing new cultures and investing into his future. His aim is to inspire fellow travelers to follow their dreams.